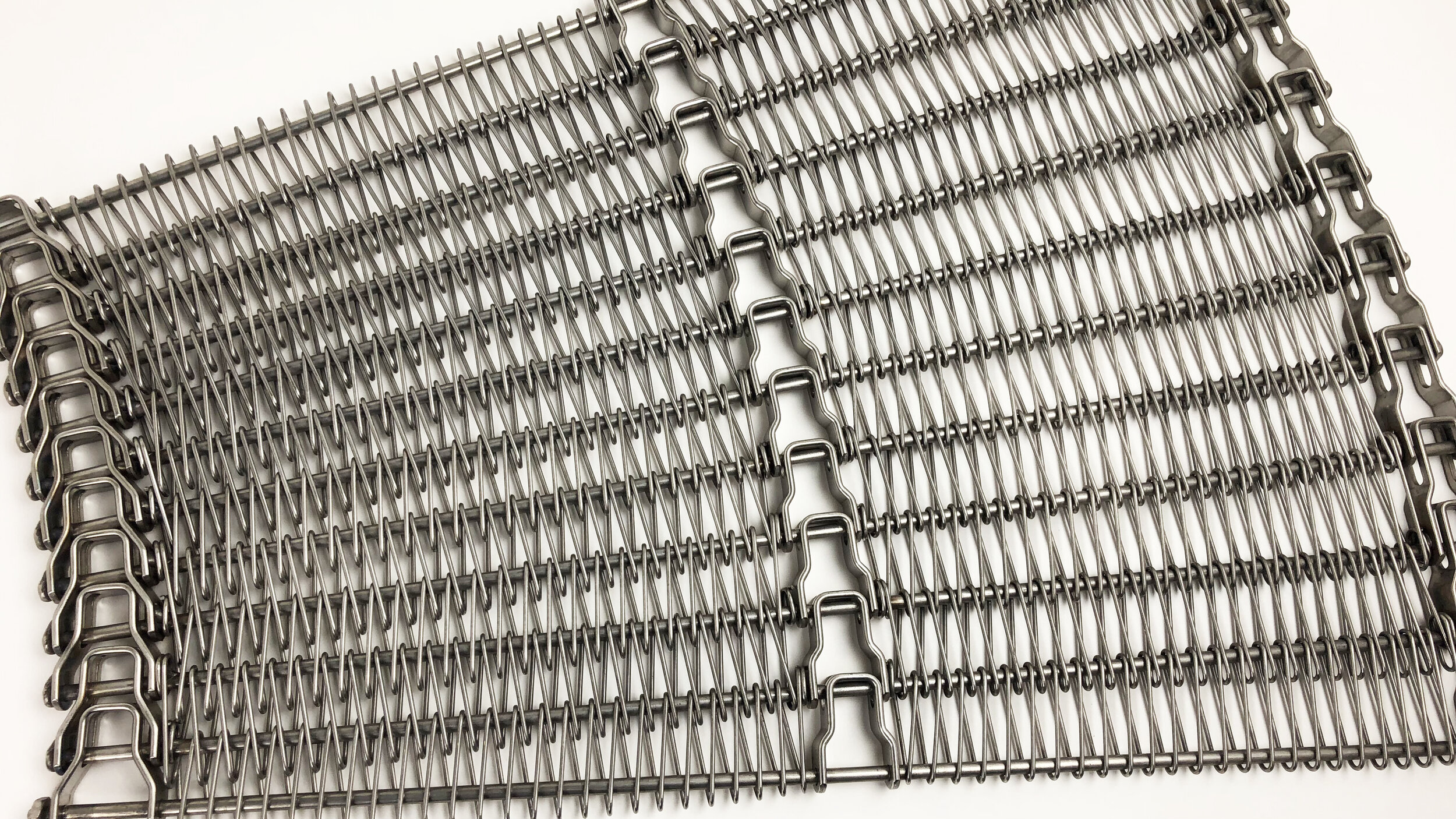 Small Radius Omni-Grid®
Tight, 1.0:1 Turn Ratio for Small Footprint Operations.
Small Radius Omni-Grid conveyor belts can negotiate a much tighter turn than regular Omni-Grid belts. In general, the inside radius can be equal to the belt width, making Small Radius Omni-Grid ideal for use in applications where floor space is limited. Small Radius Omni-Grid can turn either left or right, pivoting about a center link.
STAINLESS STEEL, HEAVY DUTY CONSTRUCTION
All Omni-Grid Family components are precision crafted from premium quality stainless steel to exacting standards. The finish is smooth and burr-free for quick and easy cleaning, maximizing production. Small Radius Omni-Grid is constructed with two product lanes divided by a center row of heavy duty links. Both 3/4" and 1" pitch belts are available.
BROAD RANGE OF OPTIONS AND ACCESSORIES
Small Radius Omni-Grid stainless steel belts can be manufactured with optional Omni-Tough wire mesh overlay (various mesh options available). Omni-Tough provides a significant improvement over conventional wire overlays by offering increased product support. High tensile strength steel construction also offers superior resistance to impact damage and deformation due to product sticking and freezing.
Special Spirals (patented), used as Guard Edges, lane dividers and flights, can be added to any Omni-Tough overlay at the time of fabrication. These formed wire spirals are economical and efficient in operation, performing better than stamped metal plates in most applications.
EXTENDED BELTLIFE AND SUPERIOR PERFORMANCE
Typically, initial wear and elongation (break-in) of a new metal conveyor belt is rapid, reducing the belt's life span and requiring maintenance work to shorten the belt. To minimize these problems, Ashworth belting engineers designed the patented Wear Resistant Link, standard on all Omni-Grid belts. The unique "coining" feature on the Wear Resistant Link reduces elongation by nearly 50%. The coining feature also prevents the initial break-in wear between the rod and the link, reducing belt maintenance requirements and increasing belt life. The increased life of your new metal belt can be dedicated to conveying your product!
Product Applications
Spiral Freezer Belt

Spiral Cooler Belt

Spiral Proofer Belt

Spiral Cooker Belt