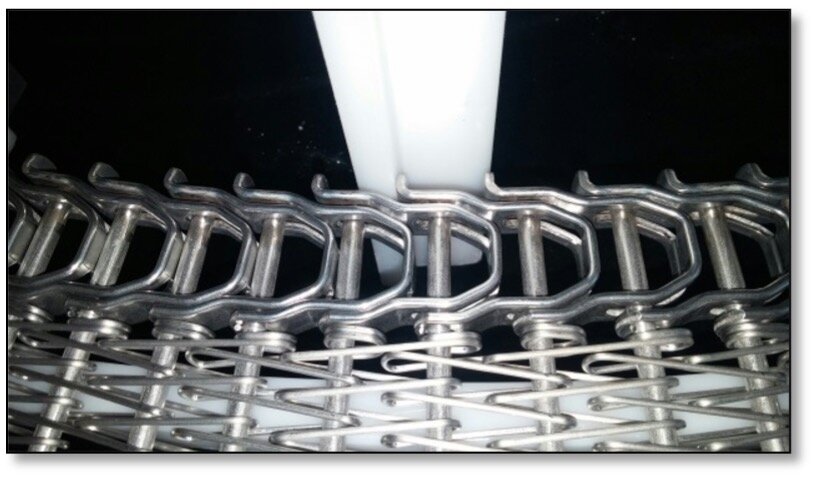 Posidrive Grid
PosiDrive Spiral™ is an alternative to Lotension drive systems. PosiDrive Spiral™ features a stainless steel grid belt with driving tabs on the inside edge. The tabs engage and are driven by vertical ribs on the spiral center drum. PosiDrive Spiral™ is recommended particularly for applications where product movement is a problem, or where oils or other product characteristics cause operational issues with Lotension drive systems. The PosiDrive Spiral™ system is suitable for new or existing spiral conveyors.
INTEGRAL GUARD EDGE LINK
These links have a raised top on the leg adjacent to the conveying surface; the raised top, or guard edge, prevents product slide from the conveying surface.
Upper edge and lower edge retain #1 round edge for smooth travel over plastic wear strip.

Offers improved cleanup and sanitation over guard edge plates.

Available in 1 inch [25 mm] height above the belt surface.

Available on outside edge only.

Longitudinal spacing (every pitch, every other pitch, etc.) must be specified.

Direction of turn (clockwise or counterclockwise) must be specified.
SPECIAL SPIRALS (PATENTED)
Available in Omni-Tough® only.

Available in 16 ga. and 17 ga. only.

One or more spirals on conveying surface are raised.

Used as guard edges, lane dividers and flights.­

Maximum height 1 inch [25.4 mm].

Available Options: height, spacing, location, shape, and number of lanes in belt.