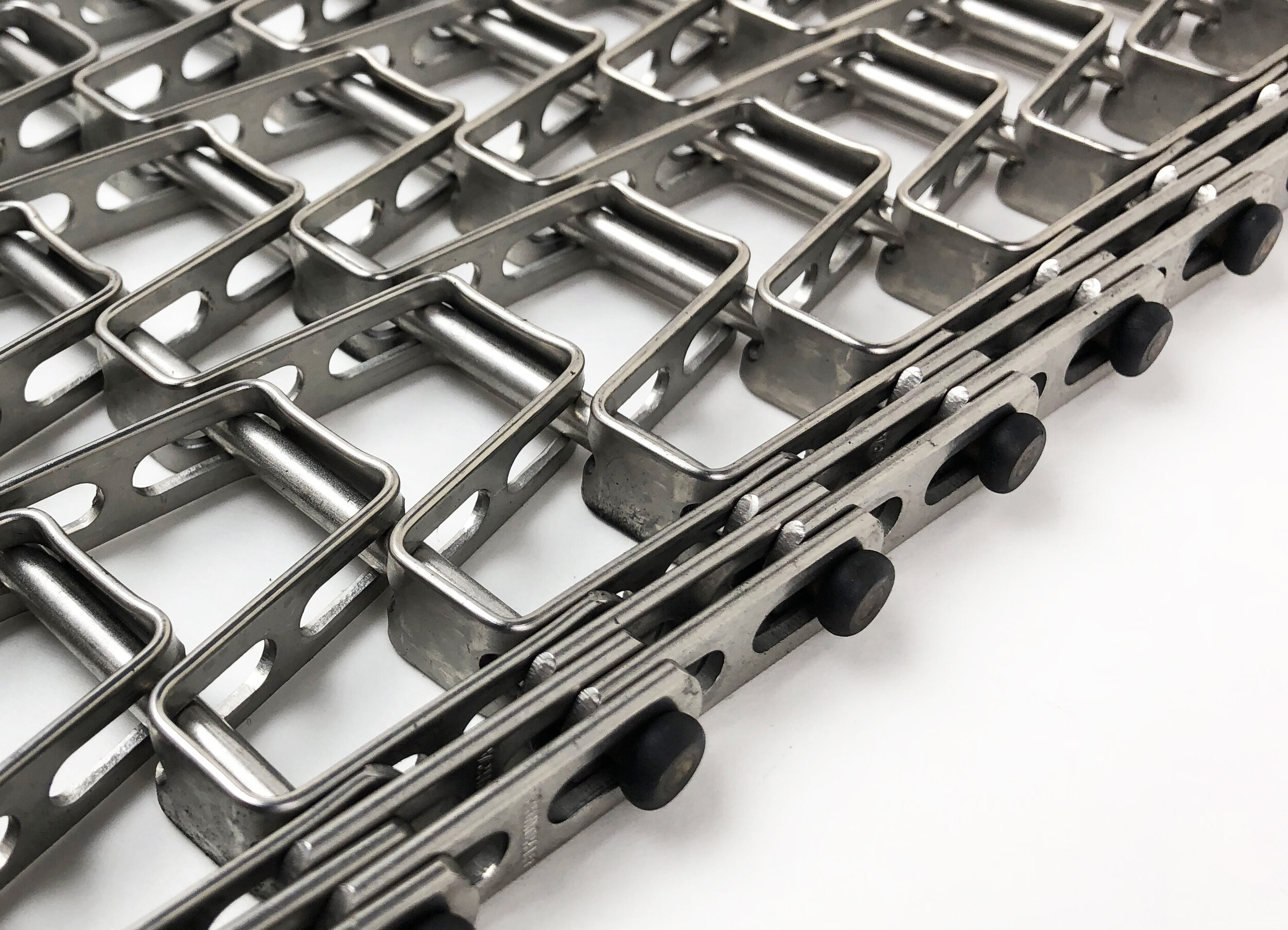 Omni-Flex®
Reliable turn and spiral performance
Originally developed from straight-running flat wire conveyor belts, Omni-Flex belts are spiral and turn curve metal belts that have been delivering consistent, dependable performance since 1959. Constructed with slotted pickets, Omni-Flex belts make right and left hand turns, as well as run straight.
STAINLESS STEEL, HEAVY DUTY CONSTRUCTION
All Omni-Flex components are precision crafted from premium quality stainless steel to exacting standards. The finish is smooth and burr free for easy clean-up and excellent sanitary and hygienic properties. Omni-Flex is constructed with heavy duty, precision formed rod ends for extended cage life and hot upset for maximum strength, reduced cage wear and abrasion. Two rows of reinforcing bar links are standard, providing the belt with ample strength.
BROAD RANGE OF SIZES AND ACCESSORIES
The flat wire mesh of Omni-Flex belts is available in four popular dimensions; 1/2" x 1", 1" x 1", 1/3" x 1", 3" x 1". Fatigue resistant pickets are available on most Omni-Flex belts and increase belt service life by approximately 30%. Other accessories such as guard edge plates, lane dividers and custom attachments are available for special needs.Product ApplicationsSpiral Freezer BeltSpiral Cooler BeltSpiral Proofer BeltSpiral Cooker BeltTurn Curve Transfer Belt (Can incorporate turns and straight runs)Industrial Product Processing, Transfer and Packaging Belts.
Guard Edges
Plates assembled onto belt edges to prevent product from falling off. Guard edges serve to replace bar links on a one-to-one basis. Available heights (above the conveying surface) are: 0.50" (12.7 mm), 0.75" (19.1 mm), 1" (25.4 mm), 1.5" (38.1 mm), and 2" (50.8 mm).
Lane Dividers
Detachable or non-detachable plates assembled into the belt's surface to locate product. Available heights (above the conveying surface) are: 0.50" (12.7 mm), 0.75" (19.1 mm), 1" (25.4 mm), 1.5" (38.1 mm), and 2" (50.8 mm). The maximum number of lane dividers = Belt Width / 9" (228.6 mm).
Fatigue Resistant Pickets (Patented)
These special pickets, which are manufactured with an outward facing radius centered on the trailing face of the picket, are designed to extend the service life of the belt by approximately 30%. This radius serves to lengthen the belt pitch in selected openings near the outside edge of the belt. This causes the bar links to bear the full load of the belt in a turn, relieving stress on the picket, which increases the belt's service life.